we have a submission which is apparently a fancharacter. Here's the profile included with the submitted picture:

"NAME: KNACCKLES9210 (BASED OFF MINE NICK CLEVA HUH?!?!?!?!??!?!!1/)
AGE 16 SAME AS SONC
FAVIROT FOOD: GRAPES SAME AS KNUX
FAVORIT DRINK: WINE (HE IS CULTORED)
SPECIAL POWERS HE CAN RUN AS FAST AS FAST AS SONNIC AND CAN FLY LIK MILES WITH HS ORANGE JET SHOOS AND HAS BLACK KNUX OF DEATH COZ HE IS COOLER TAN KNUX AND HE IS KNUXS'; BROTHER COZ HE IS ANOTHER GOURADIN OF TEH FLOATYING ISALND BUT KNUX HASNT REALOISED YET
QUOTE: ALL YOUR BASE R BELONG 2 US!!!!!!!!!!!!111"
Uhm...yes. Anyway, moving on, here's the pic -- it's apparently "drawn in anime-style to look cool":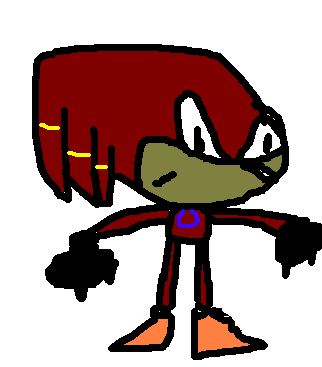 ---

And new from Knacckles, we have the following Sonic Anime-style masterpiece: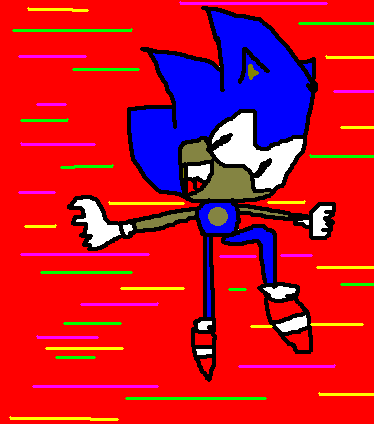 ---

Knacckles' wave of popularity continues as he submits the following classic piece of work which is sure to make it into the Tate gallery within no time at all: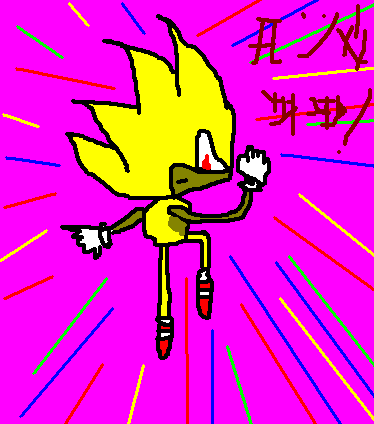 ---

Knacckles returns with a fantastic Anime picture -- check out the description!

"hey tere cyan im sori tat elitoro gets most of my art u rox too but i think u r mean to some ppl like eliotot his art is gud but not as gud as min LOL he needz to do anime picz tis is an anime pix of tails getin sliced bi a razar blade in robotorpolois THERE'S BLOOD TO LOOK KEWL and look at teh lightnig on the blade WOAH tnx for putting for my pic up but if u dont ur gay ROFLAMOA!!!!!!!!!!!!!!!!!!!1"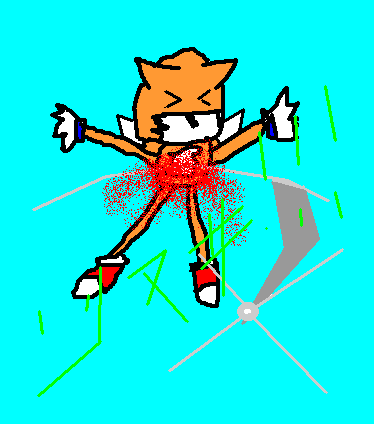 ---

The latest submission from Knacckles is certainly an eye-opener! Check out what he has to say:
"TIS R0X0R2 (THIS IS A LINGO I WANNA SPRED, MY FREND SAYS ITS CALLD L33TSP33K) ITS SONICS WORST NITEMARE TEH GIGASWATBOTOFDOOM IT CAN FLY AND BLOW UP BULDINGS AND LOOK AT TEH SHADOW FX ITS MY BEST YET AND U NO THERES MRORE 2 CUM!!!!!!
IF U DONT LIKE TIS U BE GAY!!!!!!!!!!!!!!!!!!!1 1 M L33T!!!!!!!!!!!!!!11111"

So there you go! Knacckles has spoken! Say no more! Now behold the fantastic artwork...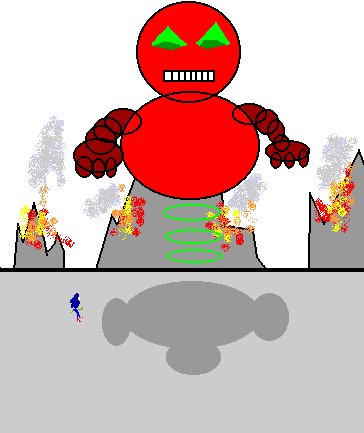 ---